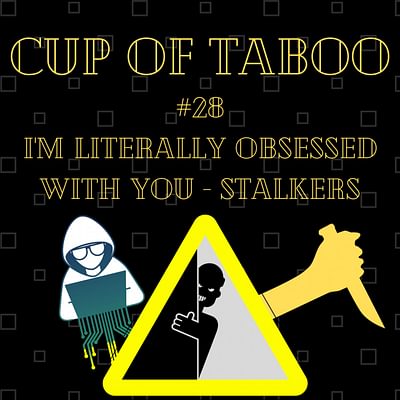 Hey, I got a new mic, yay me!! In this episode I talk about stalkers as requested by one of you! it is an absolutely terrifying topic and I would love to know if anyone has their own story to share? cupoftaboo@gmail.com https://cupoftaboo.com/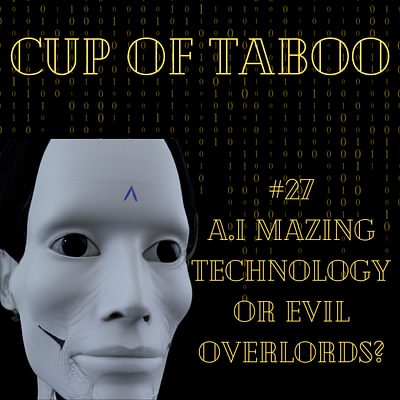 Episode 27!! Or should we just start fresh and say episode 1 for 2023?? This one is about AI which I know is not technically taboo, but it is controversial.. Also, my mic broke so I recorded this from my laptop directly, and I don't think its the worst thing I have heard, just saying.. Anyway this episode was mostly written by AI about A...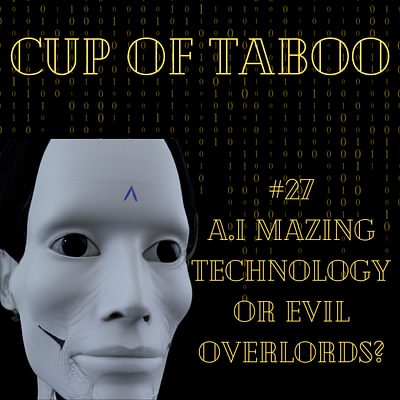 Episode 27!! Or should we just start fresh and say episode 1 for 2023?? This one is about AI which I know is not technically taboo, but it is controversial.. Also, my mic broke so I recorded this from my laptop directly, and I don't think its the worst thing I have heard, just saying.. Anyway this episode was mostly written by AI about A...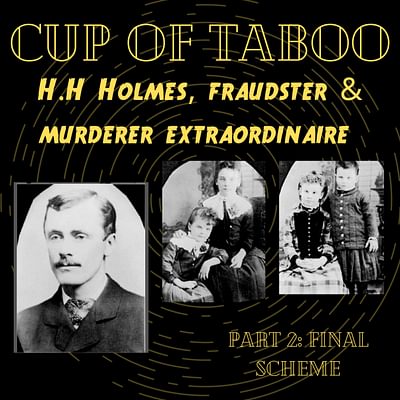 Finally finished the debacle that is Dr H.H Holmes and all of his wild crazy schemes. In this episode I discuss how Holmes was caught and all his victims (Supposedly). Let me know what you think?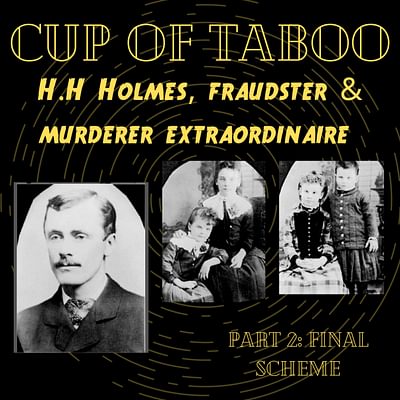 Finally finished the debacle that is Dr H.H Holmes and all of his wild crazy schemes. In this episode I discuss how Holmes was caught and all his victims (Supposedly). Let me know what you think?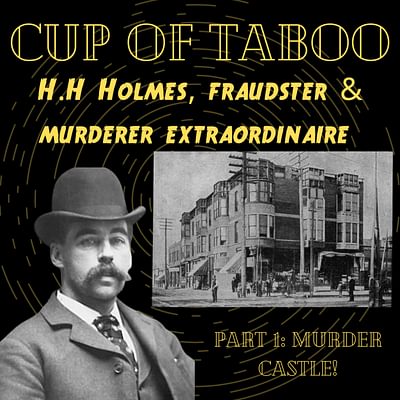 I am back BayBeee! And this episode I am bringing you Dr HH Holmes and His murder castle! Considered one of America's first serial Killers, Holmes was not only a murderer but an extreme fraudster who would do whatever it took to get what he wanted, which was money and power. Let me take you back into the 18 hundreds and tell you a tale o...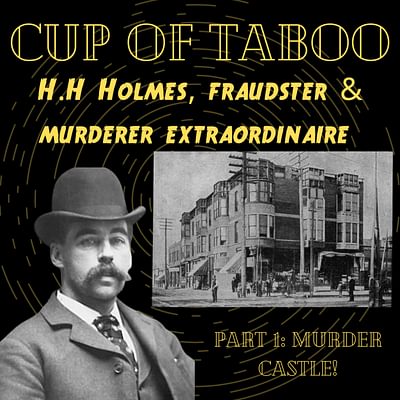 I am back BayBeee! And this episode I am bringing you Dr HH Holmes and His murder castle! Considered one of America's first serial Killers, Holmes was not only a murderer but an extreme fraudster who would do whatever it took to get what he wanted, which was money and power. Let me take you back into the 18 hundreds and tell you a tale o...
Moses Sithole is one of South Africa's most notable serial killers. Now South Africa has A LOT of violent crime, and it has a lot of murders that happen every day, but we do not really have the high amount of well known serial killers that for example the USA has. But for some very interesting crime stats of south Africa, you can look at https://www.crimestatssa.com/index.php#!/statistics/ where you can see the reported crimes for each province and what the most common crime was in the given time.
In this quarter 5760 people were murdered, 10 006 rape cases were made, 37 530 people were assaulted with the intent to do bodily harm, there were 5145 attempted murders. These are just the violent crime stats for the 3 months between April and June of this year, so as you can see, it's a lot. To put that in perspective, In America, which has a population size of around 330 million people, had a murder rate of 21 570 in 2020, and in South Africa with only 59 million people had 21 325 murders. So that's just a small breakdown of what the crime in the country looks like, the murder count is high, but the serial killers are definitely lesser known than their overseas counterparts, that's not to say that there aren't serial killers here, because there definitely is, Moses Sithole is one of them.
I think that a distinction just needs to be made between a serial killer, a spree killer, and a mass murderer quickly. A mass murderer is someone who kills more than 4 people at one location during one continuous period of time, whether that be one day or over a few days in one location, so someone that kills their family, or a famous example would be Richard Speck who tortured, raped and killed 8 student nurses in Chicago in 1966, he did this over the course of one night, in their dormitory. A spree killer is a person who kills more than 2 people but in more than one location, these are also referred to as rampage killers because there is no cooling off period between murders. Often spree killers are either called serial killers or mass murderers because there is a bit of ambiguity to it. Serial killers are people who kill more than 3 people, but each victim is considered separate events, they will be in different locations over a period of time with cooling off periods in between some of their victims. Often serial killers specifically choose their victims and they plan their crimes in advance.
In 1988, Ronald Holmes, a criminologist at the University of Louisville, identified 4 types of serial killers, they are:
The Visionary - This person is usually psychotic, they hear voices or have visions that tell them they have to kill certain kinds of people, an example would be Son of Sam.
Mission-oriented - This person targets a specific group of people who they believe are unworthy of living on this planet, and the world would be better off without them, an example would be Joseph Paul Franklin who killed 12 black males who had white girlfriends, also men who kill prostitutes like the Ripper could be considered mission-oriented.
Hedonistic Killer - These killers kill for the thrill of it, just because they like it and it brings them some kind of feeling, generally sexual arousal. Jeffery Dahmer is an example of a hedonistic killer.
Power-Oriented - This killer kills to exert power over their victims. They are not considered psychotic, but they are obsessed with capturing and controlling their victims , as well as forcing them to obey their commands. They can also have a sexual element to their kills. Ted Bundy is an example of a power-oriented serial killer.
Moses Sithole was born on the 17th of November 1964 in Vosloorus, Transvaal Province (That's now called Gauteng). That means he is a Scorpio, again, just putting that out there for anyone who cares. He was also known as the ABC killer, the South African strangler and the Gauteng Killer. He killed 38 people over a 10 month period. That's a shit ton of people! He was called the ABC killer because his kills were in the areas Atteridgeville, Boksburg and Cleveland.
Moses was born to Simon Tangawira Sithole and Sophie Sithole. He was one of 5 children, and as we have seen in so many cases before, he did not have a good childhood life. His father Simon, died when he was only 5 years old and his mother who was now a single mom, was unable to care for the 5 children so she left them at the local police station shortly after Simon passed away. Moses grew up in an orphanage in KwaZulu Natal, where he later revealed that he was wildly mistreated. I am assuming that meant that he was probably beaten, neglected and raped because unfortunately so many of our orphanages are underfunded and over populated so a lot of the children do not get the care that they so desperately need. After 3 years of living in the orphanage, Moses ran away and tried to live with his mother again who turned him away. He went back to the orphanage, then eventually he tried to move in with his older brother, and ended up working in the gold mines in Johannesburg. This was all during apartheid which was an absolutely terrible time for black people in South Africa.
Moses was said to have a violent outlook towards women, which some believe is because of his mother's abandonment in his formative years, he was also apparently quite sexually advanced from quite an early age, and he had many relationships, all of them being short-lived. He was considered charming, and a ladies man. He also helped a lot of children on the streets to find their parents. So on the surface he seemed like a decent guy, kind of like Ted Bundy. It was said that he started raping women in 1987, in 1988 he started a relationship with a 17 year old girl named Sibongile Nkosi, in Boksburg, he apparently did not treat her very well in the relationship. In 1989 he raped a lady named Buyiswa Swakamisa, and he threatened her with a panga (A machete). Buyiswa reported the rape which resulted in Moses getting sentenced for 6 years in jail. He stated that he was innocent, but he still went to prison where he later stated he was turned into a murderer. Sithole was released early in 1993 for good behaviour, which is kind of terrifying because it was shortly after this that his killing spree started. He may have learned that leaving a rape victim alive could get you jailed, so perhaps this was his thinking when he left the prison.
While Moses was in prison he met a woman named Martha, and they began a relationship, when he was released he moved in with her and her parents. Martha fell pregnant with Sithole's child, and he started a shell corporation called "Youth against human abuse", this was how he lured his victims in.
Now like I said, this guy killed a lot of people and unfortunately the crimes were not very well documented, so I will not be able to give a breakdown of every victim, I will only be able to explain the timeline of events. This man was an absolute monster who only cared for his own needs and didn't give a shit about anything else. As long as he could get his dick wet, he didn't care about what happened after that. In July of 1994, when his now wife, Martha was 5 months pregnant, Sithole lured 18 year old Maria Moname to Cleveland under the guise of a position at his company, which didn't actually exist. He raped and strangled her with his own hands, and then he reportedly wrote on her skin three messaged: "She a beach", "I am no fighting with you please", and "We must stay here for as long as you don't understand". They believe that these messages were for law enforcement and they don't really happen again in any other victims. A lot of people believed that every rape and kill were aimed at Buyiswa Swakisma (the reason he went to prison) He did later state that this was true.
What he would do is he would target young, unemployed black women with the promise of a job at his fake company. He would get proper letters typed and printed just to seem more legit, like the psychopath that he is. When these ladies responded to his ads, he would lure them into a field saying that it was a shortcut to the office, and there he would tell them about how he was wronged and that he would be raping them, they should not try to fight back. He would bind their hands and he strangled them by using their underwear or their clothing. A lot of his victims faces were then covered with clothing which was weighed down by rocks.
During the killings, there was another man named David Selepe who was arrested on suspicion of killing these women, he was arrested in the Cleveland area after he was caught using the one of the victims credit cards at an ATM, now it is believed that this victim was Sithole's victim (she was one of his mistresses) but Selepe was brought in for it. Selepe was shot and killed by a police man when he allegedly attacked the police man while showing where a body was hidden. They at this point believed that Selepe had committed all the crimes, however, the killings carried on after Selepe was killed, showing the police and investigators that perhaps Selepe had not committed the crimes that they believed that he had.
In December 1994, Sithole's daughter was born, and only months after their child was born, him and Martha got a divorce, this led to Moses becoming homeless and living on the streets, he would sleep at train stations, which also meant that more women were found near to train tracks and stations.
So while the police were trying to still connect crimes to Selepe, on the 4th of January 1995, a body was found in a field, half nude and strangled to death, she remains unidentified to this day. On the 9th of February 1995, a second body was found in a veld, she was completely naked, but her clothes were covering her upper body and weighed down with rocks, her fingerprints were used to identify her as Beauty Nuku Soko, she had gone missing in January. On the morning of the 6th of March, some construction workers were digging a ditch in Atteridgeville when they saw some breasts protruding from the soil, they uncovered the body of 25 Sara Matlakala Mokono who had disappeared 3 days earlier when she went to meet with someone who had promised her work. On the 12th of April 1995 another body was found in Atteridgeville, she was identified as Letta Nomthandazo Ndlangamandla, she was 25 years old. Her hands were tied behind her back with a bra and she was strangled with a ligature. Her clothes were found in the area, however her panties were never recovered. The next day the body of a 2 year old boy was found near where Letta's body was found. It was discovered that this was her son Sibusiso. It was said that Letta had left earlier in April to meet a man about a job offer, and she had no one to leave her son with so she took him with her. The coroner was unable to determine how Sibusiso died, but he did have an injury to his head. On the 13th of May Esther Moshibudi Mainetja's body was found in a Corn Field, she was 29 years old. Her lower body was nude and she had been strangled with her clothing. She was seen the previous evening when she left a café on her way home.
The next body was found a month later, however 5 women had gone missing in the area in that time frame. The body that was found was that of Francina Nomsa Sithebe who was 25 years old, she was found sitting next to a tree on the 13th of June. She was wearing a dress, however, upon closer inspection it was found that her panties and a handbag strap had been tied around her neck and then around the tree. That must have been a haunting sight. On the 16th of June Elizabeth Granny Mathetsa's naked body was found in Rosslyn (Close to Pretoria), she was only 19 years old and she was last seen alive on the 25th of May. On the 22nd of June a body was found raped and strangled, her ID document was found nearby, and she was identified as 30 year old Ernestina Mohadi Mosebo. On the 24th of June Nikiwe Diko's body was found in Atteridgeville, she had been missing since the 7th of April, and the last time she was seen she was on her way to meet someone who had an employment opportunity for her. Her hands had been tide together with her panties, and wild dogs had gotten to her body so it was badly torn up. Her skull was found the next day 130 feet from her torso. She was strangled with her pantihose, and it was pulled so tightly that some bone fragments were found in the pantihose. Her body was badly assaulted and I will not mention what happened to her because it was disgusting. Her wedding ring was still on her finger and that was identified by her husband.
On July 17th 1995, a man named Absalom Sangweni who lived in a caravan park in Boksburg saw a man and women walking in the veld, he called out to them to let them know that there was a fence up ahead, but the man responded that he knew the area, and they carried on. Absalom kept an eye on the area however, and sometime later the man re-emerged, without the woman and he looked sketchy, he ran away. Absalom went into that veld and he saw the woman's body there. He ran to a nearby supermarket and he called the police. When the police got there the woman was still warm, but they were unable to resus her. She had been strangled with her belt, she was later identified as Josephine Mantsali Mlangeni, she was a 25 year old mother of 4 and she had gone to meet someone about a potential job offer. Unfortunately Absolom was not able to give a description of the man to the police as the man was too far away for him to see.
On the same day a special investigation team was put together , this included Micki Pistorius, the police psychologist. They were initially confused because they were looking at the victims in the order that they were found and there were some differences that made them believe that possibly there was more than one killer.
The next day the body of Granny Dimakatso Ramela was found in Pretoria West, she was found lying face down and fully clothed, she was only 21 years old and the garotte that was used to strangle her was still around her neck, she disappeared on the 23rd of May. On the 26th of July, Mildred Ntiya Lepule was found in a canal near Pretoria. She was 28 years old, and she was last seen when her husband brought her to the area to meet someone about a job. Her pantihose were used to strangle her and her underwear was pulled over her face.
At this time, Micki Pistorius arranged the victims on the order that they were killed and a pattern started to emerge, she was seeing how the killer was evolving, and how he was refining his technique with every kill. Initially, the victims were not bound. Then their hands were tied in front with a piece of their clothing. Then, their hands were secured behind their backs. Similarly, the first victims had been throttled. Then, the killer had begun to use a ligature to strangle them, usually a bra or some other piece of clothing. Then he had progressed to a garrotte, where he would use a stick to wind up their clothing around their necks, a method providing increased control to the killer.
On the 8th of August another body was found near Onderstepoort, Pretoria (where the previous body was found) this was the body of Elsie Khoti Masango who was 25 years old. She had gone missing on July 14th. The next day, another body was found in the same area, this body was burnt beyond recognition, which they assumed was done by a veld fire, she has never been identified and it was not known how long she had been there for. On the 23rd of August Oscarina Voyokazi Jakalase's body was found near Boksburg, she was 30 year old and she had gone missing on the 8th of August. On the 28th and 30th of August, 2 more bodies were found near Onderstepoort, neither body has been identified. At this point, due to the increased police presence, the killer returned to Clevelend, where another body was found on the 12th of September, this is also an unidentified victim.
4 days later the first body was found at Van Dyk mine near Boksburg, 9 more bodies would be found during the next 2 days. At this point the East Rand cops and the Pretoria cops decided to join forces because they realised the severity of what they had. At the Van Dyk mine they made sure that the media and police presence was felt so that the killer would be forced to leave the area, even the former President Nelson Mandela went to the site and met all the detectives on the scene. There were some items of ritualistic significance at this scene which included black and red candles, mirrors, feathers, knives, lingerie, etc. These were all believed to be related to traditional healing. They did investigate whether these killings at the mines were "Muti killings" but Micki Pistorius could see the Atteridgeville killer's signature in every victim, so she knew it was him. What bother the investigators the most was that the killer had combined his methods of binding and killing in his last 4 victims, so that the victim could essentially strangle herself the more that she struggled.
Makoba Tryphina Mogotsi, 26 years old, went missing on Aug. 15.
Nelisiwe Nontobeko Zulu was also 26 years old. She was last seen on Sept. 4, on her way to search for a job.
Amelia Dikamakatso Rapodile, age 43, disappeared on Sept. 7, after she left her place of employment, Johannesburg International Airport, in the company of a man who had promised her a better job. She was found with her hands tied behind her back to her neck with her pantyhose. Her bank card had been used to withdraw money three times later on the night of her disappearance in Germiston.
Monica Gabisile Vilakazi left her grandmother's house on Sept. 12 to look for work, leaving her 4-year-old son in the older woman's care. She was 31 years old.
Hazel Nozipho Madikizela, 21 years old, was found with her hands tied to her neck with underwear. She was last seen by her parents in Germiston.
Tsidi Malekoae Matela was identified more than a year later, in Nov. 1996. Originally from neighbouring Lesotho, she was 45 years old when she died.
The other four women only received numbers, allocated by the mortuary as they were entered into the Death Register. All we know about them is how they died.
They believed that these killings had nothing to do with the Cleveland murders, because Selepe was now dead, but they did admit that they thought there was a connection between these murders and the Atteridgeville ones. A reward was offered for $82 000 for any information leading to an arrest. They also realised that they may need some international assistance so they called in Dr Robert Ressler, retired FBI agent and probably the father of profiling. I mentioned him in the Strangler episode, he coined the term serial killer! Anyway Dr Robert Ressler came to South Africa on the 23rd of September 1995 to assist with the profile for the investigation.
The profile went as follows:
There had been three discrete locations where bodies had been found: Eight women were found in or near Atteridgeville (along with the 2-year-old boy); six women were found in the area surrounding Onderstepoort; and 12 women were found in the Boksburg area. There was also one woman found near Cleveland. The profilers believed that the murders of these 27 women were related. In addition, they believed that more than one killer may have been involved, working together on at least some of the murders.
The locations seemed to have been carefully chosen, and the killer(s) quite familiar with them. Although the sites were remote and relatively safe in terms of being discovered in the act, they were still easily accessible by means of rail and road. Despite indications that the women were assaulted and killed at the scenes where they were found, there was very little evidence. This indicated an organized, intelligent offender. He was also growing in both confidence and arrogance—whereas the original Atteridgeville victims had been scattered, the Onderstepoort victims had been left closer together, and the Boksburg victims almost on top of each other. There was also no attempt at concealment.
Victimology revealed middle-class women in their twenties and early thirties, who looked after their appearance. Most of them had been unemployed or looking for better employment. This seemed to be the killer's approach, since many victims' relatives, friends or co-workers told of appointments with a man about a job offer. He had probably been affronted and hurt by a woman who was now represented by the victims. He was raping and killing her over and over again, which was why the victims were very similar to each other.
At the mine scene a handbag was recovered, in the handbag was ID documents which enabled them to identify the victim quite quickly, she was Amelia Rapodile. The police traced her last known movements and they found out that she had an appointment with a man named Moses Sithole on the 7th of September. The detectives then got information on the business that Sithole ran, Youth against Human Abuse, where he had offered Amelia a position, and they tracked the number from that organisation which led them to a Kwazi Sithole , she was his sister, but she told the police that he did not live there and she did not know where he was. When Tryphina Mogotsi was identified at the site shortly afterwards, the detectives knew that they were onto the right guy. Tryphina worked as a laundry worker at Kids Haven which was an organization that helped street children in Benoni. One of the other workers there told the police that a man had come around and told them about possible jobs at his organization, Youth Against Human Abuse. He had also spoken to Tryphina, who was very excited that she had made an appointment with this man for an interview of sorts. It was confirmed by a witness that Moses had returned to Kids haven with 2 teenagers that were to be placed in the home, and then again with a newspaper article about his own organization. Tryphina went missing a few days later.
Even though there was considerable coverage of the case, a reward for information and a plea from President Mandela, the killer struck again. 1 week after the bodies were discovered at the mine, 20 year old Agnes Sibongile Mbuli went missing. Her body was found on the 3rd of October at a train station near Benoni. On the same day a man called the newspaper called The Star and spoke to a reporter named Tamsyn De Beer. He said that his name was Joseph Magwena and that he was the Gauteng Serial killer. 'I am the man that is so highly wanted.' He told her that he wanted to surrender. The reporter typed out the conversation and contacted the police. The man phoned another three times during Oct., and these calls were recorded by the police. In these four conversations, "Joseph" provided some detailed information about the murders. He said that he began killing after a woman had falsely accused him of rape, for which he was convicted and imprisoned. While in jail, he suffered abuse at the hands of fellow prisoners. "I force a woman to go where I want and when I go there I tell them: "Do you know what? I was hurt, so I'm doing it now. Then I kill them." He stated that he used the victims' clothing to strangle them, and preferred underwear because it left no fingerprints. He had used an area near Boksburg for an extended period, but of course anyone reading the newspapers knew this by now. Continuing, however, he said that these women saw the other victims before they died. Although he accepted responsibility for the murders in Pretoria, Atteridgeville and Boksburg, he denied any involvement in the Cleveland killings. He also vehemently denied killing Letta Ndlangamandla, and in particular her 2-year-old son, stating that he loved children. He provided other specifics as well, including the location of a body the police had not yet found, and the detectives believed that the caller was indeed the killer.
On the 9th of October the body of an unidentified woman was found at a train station near Germiston, and on the 11th of October Beauty Ntombi Ndabeni's body was found, also in Germiston. A comb had been used to tighten her pantihose around her neck.
Tamsyn De Beer (now working with the police) tried to organise a meet up with the caller at a police station but this fell through. That is a brave woman, I don't think that I would have the balls to do that. Because it fell through, they decided to post a picture of their prime suspect, Moses Sithole in the newspaper on the 13th of October. The next day a body of another unidentified victim was found at the Village Main Reef Mine, shoelaces had been used to bind her neck to a tree.
Now onto his capture! Just a few days after his picture was published in the papers, Moses contacted his sister's husband, Maxwell. He told Maxwell that he needed a gun to protect himself and he arranged to meet Maxwell at the Mintex factory in Benoni. At this point, his sister contacted the police and Maxwell had told detectives what was requested of him. The detectives arranged to have inspector Francis Mulovhedzi pose as a security guard at the factory on the night that the meeting was to take place. At 9pm on the 18th of October 1995, Moses arrived at the factory and asked for Maxwell, now the other security guards did not know that Francis was undercover, they just saw him as the new guy so they told him to go get Maxwell, but he did not want to let Moses out of his sights, this made Moses suspicious and he fled into an alley way, Francis chased after him and drew his gun and told him that he was a police man, he fired 2 warning shots, but Moses would not stop, instead he turned around and ran at the detective with an axe, feeling threatened, Francis shot Sithole in the leg and the stomach. He was taken to the hospital and operated on the next day, he was then transferred to 1 Military Hospital in Pretoria, which is where all of the politicians and important people go if they need medical care because the security is so much better there. They said the security was needed, not necessarily because they were worried of Moses fleeing, more to stop the angry community members from attacking him.
On the 23rd of October he was charged with 29 counts of murder, he was unable to attend due to his injuries.
At this time he was in hospital and the cops tried talking to him to see what he had to say. He kept quiet until a female detective entered the room, when he suddenly started spilling the beans, it is alleged that while he described his crimes to her he would masturbate, which, gross! But I only saw that in one source so I cannot say that it is fact. He said that he would only attack during the day time, and he would "only rape the pretty ones". He also stated that he did not like blood at all, which is why he strangled his victims, he said that he would masturbate while his victims died.
On the 3rd of November, Moses was released from the hospital and transported to Boksburg prison where he spent those years earlier for raping a woman, there he was kept in a solitary cell until his trial. In the next couple of days he was taken to point out the scenes where he had murdered his victims. On the 6th of November he took them to Garsfonteinpark mine dumps where they discovered his last victim, who is still unidentified. This was his final victim.
He was taken to be seen whether the police injured and intimidated him, which was a no (besides the shooting). He appeared in the court on the 13th of November , which was postponed. On the 5th of December he returned to court and his lawyer requested that he get a psychiatric evaluation because he stated that Moses had head injuries from previous assaults and boxing matches, which rendered him not well in the head, but if he was so unwell in the head and so unaware that what he was doing was wrong, why did he lure his victims? Why did he cover his tracks so well? He was then moved to Krugersdorp prison which was close to Sterkfontein psychiatric hospital where he could be tested and monitored to see if he was fit to stand trial. On the 6th of March 1996, the psychiatric reports were completed and the findings were that he was fit to stand trial. On the 20th of May Sithole appeared in Pretoria high court where the trial was set to begin 5 months later. On the 30th of September it was announced that he would be charged with 28 counts of murder, 40 counts of rape, and 6 counts of robbery. 4 of the murder charges were women who they believed they had incorrectly attributed to David Selepe.
On the 21st of October Moses Sithole was charged with the rapes of 40 women, the murders of 37 women and 1 child, and 6 counts of robbery. He pleaded not guilty with a big grin on his face which is just terrifying. Now I am not going to go into what happened at the trial, if you would like to hear what happened let me know and I will make an episode just for that, but it's just too long and drawn out. On the 4th of December 1997 Justice David Curlewis was ready to pass judgement on Moses Sithole. He was found guilty on all counts, it took three hours for the verdict to be read and the sentencing, which only happened the next day was as follows: he got 12 years for each of the 40 rapes, 50 years for each of the 38 murders, and 5 years for each robbery, this adds up to 2410 years in prison. These sentences would not run concurrently and the judge recommended no possibility of parole for at least 930 years. The judge stated that he would have had no problem imposing the death penalty if it had still been a viable option, he did not have the faith in the prison boards because if he did do the death penalty, Moses could have been up for parole in 25 years. Moses was taken to C-Max, which is the maximum security section of the Pretoria central prison and the highest security cell block in South Africa. He would be there with 94 of South Africa's most dangerous criminals, each prisoner is allowed only 1 hour per day outside their cell and 3 visits per month.
Sithole was diagnosed with AIDS, and at the time of his trial it was estimated that he would only live another 5-8 years, but because the world is messed up, he receives much better medical care in prison than most of the population receives, free of charge to him, so he is doing well as far as I could find out. There really isn't much information on him currently. All I know is that he will die in prison, and that's where he deserves to die.
So that's Moses Sithole and his shocking crimes that he committed. Taking it back to the beginning of this piece, he is a power-oriented killer, and many similarities are drawn between him and Ted Bundy. He was motivated by taking control over his victims, as well as his perverted sexual drive. It is a tragedy really, these poor, unfortunate women were all lured into this trap under the promise of work. He preyed on desperate people. He made them excited and hopeful and then he took everything from them. The scary thing is that he really did advocate for the children on the street, and he was apparently a very mild mannered guy to the people he met.
Here is a timeline of his murders and rapes:
16 July 1994 - Maria Monene Monama, 18
6 August 1994 - Amanda Kebofile Thethe, 26
19 August 1994 - Joyce Thakane Mashabela, 32
7 September 1994 - Refilwe Amanda Mokale, 24
18 September 1994 - Rose Rebothile Mogotsi, 22
December 1994 - Unidentified Victim (discovered 3 January 1995)
January 1995 - Beauty Nuku Soko, 27
3 March 1995 - Sara Matlakala Mokono, 25
7 April 1995 - Nikiwe Diko (discovered 24 June)
12 April 1995 - Letta Nomthandazo Ndlangamandla, 25
20 April 1995 - Sibusiso Nomthandazo Ndlangamandla
12 May 1995 - Esther Moshibudi Mainetja, 29
23 May 1995 - Granny Dimakatso Ramela, 21 (discovered 18 July)
25 May 1995 - Elizabeth Granny Mathetsa, 19 (discovered 16 June)
30 May 1995 - Mildred Ntiya Lepule, 28 (discovered 26 July)
13 June 1995 - Francina Nomsa Sithebe, 25
22 June 1995 - Ernestina Mohadi Mosebo, 30
14 July 1995 - Elsie Khoti Masango, 25 (discovered on 8 August)
17 July 1995 - Josephine Mantsali Mlangeni, 25
8 August 1995 - Oscarina Vuyokazi Jakalase, 30 (discovered 23 August)
9 August 1995 - Unidentified Victim
15 August 1995 - Makoba Tryphina Mogotsi, 26 (discovered 17 September)
28 August 1995 - Unidentified Victim
30 August 1995 - Unidentified Victim
4 September 1995 - Nelisiwe Nontobeko Zulu, 26 (discovered 17 September)
7 September 1995 - Amelia Dikamakatso Rapodile, 43 (discovered 17 September)
12 September 1995 - Unidentified Victim
12 September 1995 - Monica Gabisile Vilakazi, 31 (discovered 17 September)
17 September 1995 - Hazel Nozipho Madikizela, 21 (discovered 17 September)
17 September 1995 - Tsidi Malekoae Matela, 45
17 September 1995 - 3 Unidentified Victims
24 September 1995 - Agnes Sibongile Mbuli, 20 (discovered 3 October)
9 October 1995 - Unidentified Victim
10 October 1995 - Beauty Ntombi Ndabeni (discovered 11 October)
14 October 1995 - Unidentified Victim
6 November 1995 - Unidentified Victim